EVENT DETAILS
Omaha Women's Triathlon, Half Marathon, 10K and 5K – Date Coming Soon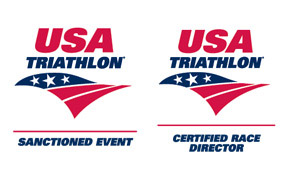 The Omaha Women's Triathlon aspires to bring women together as a community by offering a supportive, energetic and empowering environment for females pursuing a healthy and active lifestyle. This special event is designed especially for women of all athletic ability — whether new to multisport or an experienced athlete. We are currently working on scheduling a date and location for this event.
All events are held at Flanagan Lake Recreation Area.
Sprint and Run Course will be added as soon as possible.  Run Courses are all on the paved running trail around Flanagan Lake which measures approximately 6 miles. Please see the registration link for additional event information.
This event is sanctioned by USA Triathlon (USAT). All USAT-sanctioned races require you to have a current USAT membership. If you don't have an annual USAT membership, (only $50 per year), you can purchase a single day USAT pass for $15.
The Course
SWIM – Each lap 375M
1 lap for Super Sprint and 2 laps for Sprint Course at Lake Flanagan.
BIKE – Sprint Bike Course is 20K and Super Sprint Course is 10K.
This is an out-and-back course.
RUN -Sprint Distance is 5K and Super Sprint is 2.5K. Out-and-back course.
TEAMS – Competing as a member of a relay team is a great introduction to the sport of triathlon. Teams may have either two or three athletes participate.
Schedule
Schedule 
Friday, June 4
Packet Pickup:
All registered participants need to pick up their race packets. Packet pickup will not be available on race day. This includes all relay team members. Relay team members need to complete a hard copy waiver.
Bike Check:
A mandatory bike check into the transition area is required. Bike mechanics from our local bike sponsors will be on hand for minor issues and maintenance. Please place the corresponding bike number on each bike. Make sure to wear your wristband at all times in order to place and remove your bike from the transition area. If you are part of a relay team, the biker is the only one that may wear the wristband included in the race packet and place and remove the bike from the transition. These measures assure the security of equipment and the general safety of all participants.
Athlete Guide:
Please see Athlete Guide for important race information.
Age group awards are given to the first three finishers in each age group following the USA Triathlon rules. Age group awards are in five-year increments: 19-24, 25-29, 30-34, etc. up to 80+. Relay awards are given to the 1st place relay team.
Saturday, June 5
Race starts at 8 a.m. See athlete guide for information related to event day.