Sunday, July 17. 2022
The Omaha Triathlon features a variety of options for athletes to choose from: Olympic and Sprint, Individual, Olympic Team Relay, Duathlon Individual, Aqua Bike (Swim and Bike only). Olympic Relay Team can consist of either 2 or 3 teammates.
These events are sanctioned by USA Triathlon (USAT). The term "sanction" refers to the compliance of a multisport event to USAT's safety requirements. Safety plans, course maps, and event details must be submitted for review by experienced USAT staff. This ensures events are safe and fair competition environments. All USAT-sanctioned races require you to have a current USAT membership. If you don't have an annual USAT membership, (only $50 per year), you can purchase a single day USAT pass for $15. Both may be purchased during online registration.
Olympic Distance
The Olympic distance is our main course for this event. Register as an individual or as a team. The distances consist of a 1500m swim, a 40km bike, and a 10K run.
SWIM – 1500 Meters, just under one mile
BIKE – The bike course is a 40km fast course.
RUN – 10K run (1 lap around the course)
TEAM EVENTS – The Olympic distance triathlon is open for team registration. Teams may have either two or three athletes participate.
Sprint Distance
The sprint distance is 1/2 the distance of the olympic. The sprint swim waves start immediately following the olympic waves. Both the sprint and olympic race courses run concurrently. Athletes will do one lap for sprint distance.
Schedule
Virtual Race Bag/Athlete Guide and Race Briefings: The Omaha Triathlon does not require mandatory race briefings. However, a voluntary but recommended race briefing for any participant or athlete that would like to review the course, USA Triathlon Rules, and event information prior to race day. This is especially recommended for less experienced triathletes and relay team members. We will have option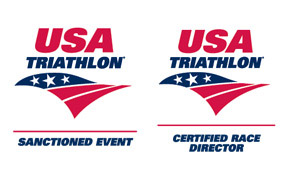 al race briefings at GreenStreet Cycles the week of the race and approximately two weeks prior. GreenStreet will host a preview ride of the course following these course briefings.
All participants receive a virtual race bag containing all the necessary information to prepare for race day the week of the event. It is the responsibility of each participant to review the information and the event schedule. This includes information on their wave start times, transition, courses, USA Triathlon rules, and other useful event information.
Packet Pickup / Registration: Each pre-registered participant must pick up their own race packet at the designated location (location and time TBA). Due to a large number of participants, requiring packet pickup prior to race day avoids and prevents many events concerns by participants. Please present proper identification at packet pickup. Unless you have previously authorized a proxy, packets may not picked-up by anyone other than the athlete.
Annual USAT members will need to show a current USA Triathlon Membership Card and a Photo ID to the Registration Staff. If either the participant fails to bring a current card or does not have a current USA Triathlon Member Card, a $15 USA Triathlon Fee is required to participate in the triathlon. If you purchased a $15 USA Triathlon single day membership, we should have that information at registration. Only annual memberships receive a member number from USA Triathlon.
Bike Drop-off for the Omaha Triathlon:
There is no mandatory bike drop-off on Saturday afternoon/evening. However, we recommend dropping off your bike on Saturday to avoid any capacity issues with our bike support and mechanics. Also, we can deal with any last second issues such as missing bar-end plugs the day before the race versus race morning. If you plan to bring your bike race morning, please arrive with plenty of time to place your bike into transition. Bikes must have the Race Number sticker affixed and visible on the bike and correspond with the athlete number on the bracelet. No bikes will be allowed in transition once it is closed just prior to the race start.
Race Day:
Transition opens at 4:30 a.m. and closes shortly before 6 a.m. Race start is scheduled promptly at 6 a.m. Waves will be 3 to 5 minutes apart. The Athlete Guide will be sent by email closer to the event with any updates and changes to the official event schedule.
COUNTDOWN
days

hours

minutes

seconds