bRUNch5K | April 18, 2020
Race Omaha is excited to be timing the Junior League of Omaha bRUNch 5k on Saturday, April 18 at 9 a.m.
Ready. Set. bRUNch. for the fifth annual bRUNch 5k! Lace-up your running (or walking) shoes for the bRUNch 5k on April 18, 2020. Once you cross the finish line, enjoy a buffet brunch with mimosas and bloody marys at Beacon Hills restaurant.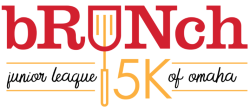 For more details and to register for the event, click here.